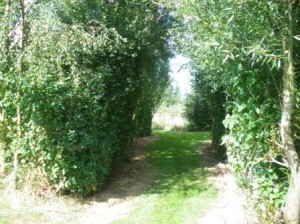 Spring… and all those little things
Spring is the exciting time and how glorious is nature that shows us that there are many miracles happening this time of year.
In Chinese medicine we can look at the cycle of creation and the Five Elements, from the element Water and associated season Winter comes forth the element Wood and its associated season of Spring.
You can connect to your "Wood "energy by being healthily flexible in all things in life including your physical body and mind. You can acquire the ability to easily change without it causing too many problems or unnecessary stress on yourself and others.
The Gall bladder and Liver are the organs associated with spring, so continued cleansing is most important, just drinking fresh water at least 1 litre day is ideal to assist the vital functions of these organs.  Cut out de-natured and processed foods  and enjoy  Spring foods with a pungent flavour  which cleanse and calm the liver, this include most complex carbohydrates like whole grains, including brown rice ,oats, millet, and quinoa, as well as sprouted foods like sprouting broccoli, lentils, chickpeas, there are many things which you can easily sprout at home. You are welcome to join in on the Living foods Workshop , e-mail for details. Other spring foods include the wonderful watercress, and specifically turmeric, cumin, horseradish, black pepper, rosemary, beans, and seafood.
By reflecting on the energy of the Spring, we can positively start new projects, big or small. Like those new green shoots, full of life and vitality. We will be assisting that growth by being kind to ourselves and doing "good "things, like basic principles of eating well, sleeping and breathing well and making a commitment to moving our bodies to be flexible, and strong  and  just to feel good.  Sideways bending at the waist encourages the vital flow of Chi through the liver and gallbladder meridians (energy pathways of Chi) Go ahead and just do it, feel it through your torso, feels good doesn't it?
Visualise "breathing in" the colour green to enhance your love of nature and the spring.   Come and explore some or all of the many things that we do here at Shining tree and see what we love to do and show  others…. ……..including the Spring!