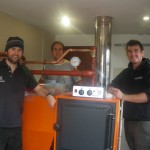 We have recently had a wood pellet boiler installed  in the centre to replace the oil boiler. Those of you who also use oil know how the companies seem to charge whatever they want. Every time I make an order for oil, I almost feel violated, definitely shafted!
We were recommended to  a company called CPL to buy our wood pellet. The marketing manager David came up to see us and was really helpful, even advised us on how to create a fuel store, as we would would be needing five tonnes of pellet per delivery. From there, I was directed to the sales department and spoke to  a chap called Oliver who was in charge of ordering and delivery of pellets. After speaking to him, a day was set for delivery. The eventful day arrived and my electrician and heating engineers were all waiting for the delivery with eager anticipation. By three o'clock there was still no sign of the delivery, so I called CPL to find out when the delivery was coming . After speaking to someone who was no help whatsoever, I eventually got a call from Oliver…..apparently they couldn't load the pellet this morning , so there was no delivery. I asked him why he didn't call me this morning….no answer. I informed him that I have a team of people standing around who I am paying and who could have been somewhere else today. Did he care….no! I wanted a discount as compensation for what I have to pay my guys…..he said he wan't authorised to do that. I asked to speak to his manager…..he was in a meeting; although Oliver said he would pass the message on. I felt that I would have got more help and sympathy from an Indian call centre. Eventually we did get our delivery, no discount, no apology, no acknowledgement from the manager.
Since then I have found another supplier called Billington Biofuel and spoke to  a guy called Andy McIvor. Andy was very helpful in setting up an account for us. Typically we got caught out and required an urgent delivery on the week of Christmas. No problem, Andy sorted it out and we got our delivery two day after our order was placed.
At the end of the day, it is people that matters. People that we interact with,not organisations. It really does not cost anything to be sympathetic and helpful, maybe a heartfelt sincere apology is what a customer  requires. Andy is a nice person. You can hear it in his voice and see it in his action. In me,he has gained an admirer for life. Just by me thinking about him and sharing this experience with you, his karma has changed . positivity creates positivity. Negativity and indifference creates more negativity and indifference. Niceness is unconditional, it's like the sun, it is not selective in what it shines on.
One of my patient use to be in human resources for five star hotels. She tells me that their policy was to recruit nice people to train up, as you couldn't train people to be nice.
In nearly thirty years of nursing, I have met  nurses who were not very nice people, at best, they were competent…..but its a job and the patient can feel it. Whereas other nurses are like angels, and besides from working very hard they really care. Every one of us wants to be treated nicely when interacting with others, so why do some people think it should only be a one way traffic?
Can horrible people become nice people? The question should be : why can't some people be nice? Is it to do with their upbringing? Weren't they given love and made to feel secure when they were children? Why do some people feel so small that they fear to do anything different?
I met a very lovely gentleman call Pershant many years ago, time when I was in need of spiritual guidance.  Pershant   heads  the Cambridge branch of the Bhrama Kumaris, an international spiritual organisation.  Before moving to Cambridge Pershant was a Ears, nose and throat Consultant working in London. He told me that he wasn't a very nice person then, he was always angry, irritable; horrible to people. Then he came across the Bhrama Kumaris and was introduced to meditation…….the rest is history.
Niceness, compassion, empathy and love is our true nature. Meditate, find that stillness within, feel it, connect to it. Find your Buddha nature.