David Cameron told British nurses to be more caring towards their patients today, that nurses should be more patient and not paperwork orientated. Shame on you British nurses! Did you really have to be told that??
I trained and qualified in nursing in 1986 and stopped nursing in 2004 to open Shining Tree. My area of nursing was always acute medical and elderly nursing. The pay was poor and the work was hard, but that was what I signed up for and loved doing . Nursing to people like myself was a profession, a vocation…….not a "career". The priority was always the acutely ill patients, whether medical or surgical and patients who were helpless and needed our care -we were their advocates. There has always been indifferent and lazy nurses in the ranks, just as there will always be soldiers who are less than courageous; but if the negative elelment start outweighing the positive then you will have serious problems.As we do now in nursing. Not every nurse liked me when I was on duty, because I made them work when I was in charge of the ward; but they respected me, because I led from the front, I didn't sit on my arse doing paper work while they gave the care. I gave the care because this is what I trained to do and loved doing. There is really nothing more rewarding than finding a patient covered in poo and pee and leaving them all clean and comfortable, but doing it with their dignity in mind. I can remember many a hellish night of hard, hard slog, but then, we British nurses were the best in the world! Nurses cannot blame management or lack of resources for their poor care to the patients. We have a code of conduct, which states that if a nurse feels that the environment that they are on is unsafe, they can refuse to work. Nobody complains, they just don't give the care…..it could be your mother or grandmother they are neglecting. How can they do it……..I really don't know.
It is always people that make things work. Hard work,stamina, compassion, empathy, common sense, intelligence, kindness and a wicked sense of humour are the attributes of a good nurse, not loads of academic qualifications and a reluctance to participate in patient care
Picture is of King's Lynn School of Nursing class of 1982-86.
Every one of these girls are angels... ….except for the bloke with the dodgy haircut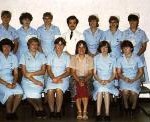 I had a bad dream the other night. I dreamt that I was back in nursing . I needed to turn a elderly patient and give her some care, but I couldn't find any nurses who would help me do it.