How did you find the accommodation at Shining Tree?   Homely,comfortable,warm,real, natural
a). Did the clinical therapies you received meet with all your needs ? and b). did we tailor make a programme for you specifically? Yes to treatments.  Have been exactly what I needed, without my knowing exactly what I needed. I include the food as a treatment. My particular experience has been much bespoke treatment.
How did you find the Yoga, Qigong & Meditation classes that you at Shining Tree? I wanted a robust yoga retreat when I arrived- and I leave with an enormous gift of meridian yoga. Gentle, strong & harmonious. I have been learning the Qigong stances- Embracing the one, Golden tortoise and Golden plates.
Do you think that you have gained enough knowledge to continue the practice of Qigong, Yoga and Meditation at home? Its a start and I'll include what I know into my morning practise. I will definitely seek out more qigong in London.
How was the food? Awesome.
Do you think you have gained enough nutrition and cooking experience to continue what you have learnt here? Yes, sprouting, soaking, humus, puddings.
Did you enjoy our pool and sauna area? Loved it. – Right temperature, – never too busy, -great for relaxing.
Did you enjoy our woodland gardens? Yes. The tinsel in the tree, the caravan, the incredible sunset while drinking tea in the garden.
We would be grateful if you would give us a general account of your impression and experience while at Shining Tree. A gentle and healing experience I would like to support and share- especially with my father. Thank you for your wisdom and generosity,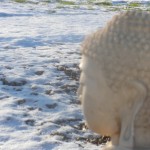 Recent Posts
Recent Comments
Categories